Parents the same age as me are often surprised at just how different school is to what they remember it being like. And we often joke together about the fact that "I get to play all day". In my mind there is no truer sentence than the fact that I, as an Early Years Teacher, get to play all day. But more exciting than that, I get to watch children play all day. I get to watch the very real and awesome power of authentic, child-led learning. So I've challenged myself to try and write a blog post that captures the joy and excitement that fills my day.
So, the first thing to be aware of is that every day begins with a plan. I always have a list of activities and lessons that I aim to get through, and I never get through all of them. Because the children bring so many amazing ideas of their own. Today's plan started with phonics... and a group of children that wanted to learn outside. Which inevitably became an outdoor phonics lesson. Followed by running around our outdoor area looking for 'or' words.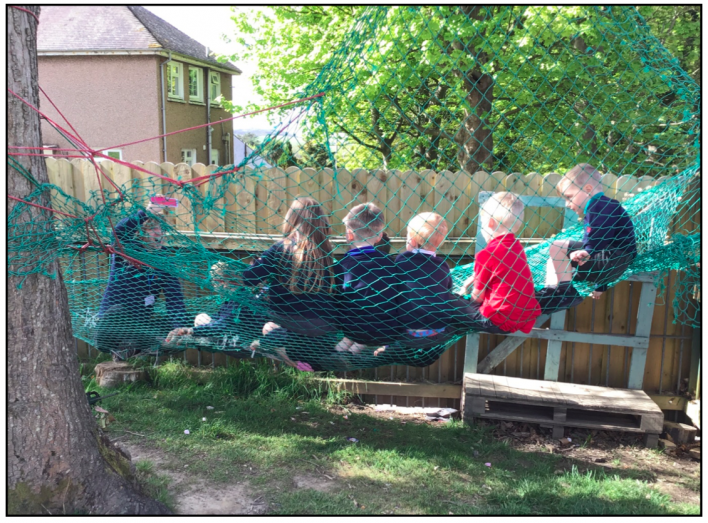 As previously mentioned, I work with the most amazing people in the world and, being 4 and 5 year olds, they get so excited about their learning that after phonics, we had lots of children wanting to go and practice the skills they had used in our lesson. So we got whiteboards out and we practised writing some of our 'or' words on the whiteboards.
After this, the next step of my plan was a shared read, but during the morning's assembly we had been talking about kindness, and the children remembered our book "Have you Filled A Bucket Today?", one of the girls had drawn and cut out a bucket to link to this story. So we followed her idea and started making our own buckets out of plant pots and ribbon. The children then filled their buckets with bright strips of paper, explaining what kind act they had done for each piece of paper they were putting in to their bucket. Then they started to try and actually write the acts onto their paper strips (I know! 5 year olds asking to write! Again!) So we found some bucket shapes and printed them with writing lines inside. Then we worked together to sound out and spell our own wonderful pieces of bucket filler writing.
| | |
| --- | --- |
| | |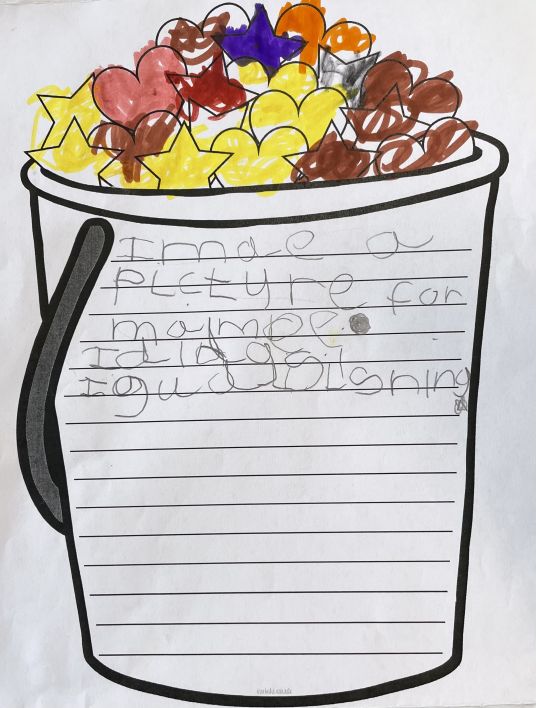 Then (an hour later than hoped) we finally got round to our shared read! Which was lots of fun as we read the super book "Brown Bear, Brown Bear, What Do You See?", the children enjoyed listening to the story and talked lots about the animals that were strange colours. We played a memory challenge to see if we could remember all the animals in the book, then we tried to make a list of animals that weren't in the book. And now the children want to write their own book with their new animals in. But that will have to wait until tomorrow as we've already reached lunchtime and I never got round to my maths lesson!
While our formal maths lesson got pushed back, we have counted the number of kind acts in our buckets, talked about which bucket had most and worked out how many kind acts there were altogether. We also counted how many children we could fit in the hammock for phonics, looked at how many pens were missing from our writing area and counted our dinner choices, so lots of maths happened by accident this morning.
And sadly, this afternoon Mrs Lace is teaching in my classroom, so while I've taken a bit of time out to write this post celebrating how lovely my job is, I'm now going to set to work sticking the evidence of the children's learning in their books, completing class paperwork, filling in risk assessments, organising and restocking resources and making more plans that I hope will fly out the window as wonderfully as today's did. Early Years Teaching, it's not an easy job, but it's the best, most rewarding job in the world.