A chocolate lover's dream!

Yesterday Year 5 were extremely lucky to have spent the day with the fantastic team at Gourmet Shake Lounge! After a terribly turbulent school year, I reached out to many local businesses asking for support. With an aim to inject as much fun and 'real life' purposeful learning into my classes last term of learning, Tim and his team from the Shake Lounge quickly offered their help and support.
After explaining a little bit about our current 'Food Glorious Food' topic to Tim, he came back to me with a whole host of ideas and ways he could share his passion and skills with the children. And he did not disappoint!
The children started their day by making their own chocolate covered Oreos, setting them in moulds and decorating them with chocolate stars and Haribo.
They then split into working groups and began a project to design their own chocolate creations, looking into packaging, target markets, slogans, price points, promotional deals, and more!

Tim then gathered the children to explained how his company use local produce and how this has a positive impact upon our local communities. He then encouraged the children to think about this and consider adding to or changing their ideas to accommodate for local produce in their designs.

Once the children had completed their designs, Tim demonstrated how to make their Doughnut dough and the role yeast plays in this process. The children then got the opportunity to look at how yeast works a little more closely in their groups, watching it change and grow.
After lunch the children had the chance to see their Oreo creations, removing them from their moulds, packaging them, and labelling them with the correct allergens. This was a very exciting part of the day, the children found it very difficult not to eat their end products there and then!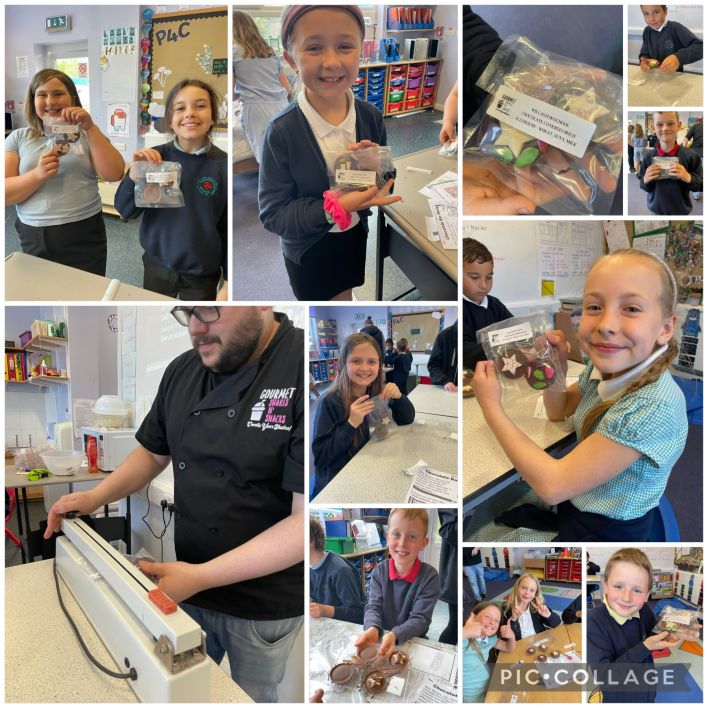 Finally the it came time for the children to present their chocolate creations in their working groups. Each group took it in turns to present their ideas and answer questions from Tim's team about the choices they made and why they made them. I was incredibly proud listening to the children share their ideas and justify their choices confidently to the Shake Lounge team, demonstrating maturity and creativity throughout.

Tim's team then debated long and hard when trying to choose winner for the competition, it was a very hard decision to make, and one I was glad not to be making myself! Finally all groups were giving feedback about their products and presentations and the winners were unveiled. The winning team were EXTREMELY lucky to be given Stock Car Raceway vouchers to take home thanks to Tim and Energy FM's sponsorship. As well as this, Tim has very kindly offered to make the winning team's product, drop it off for the children to enjoy next week, AND sell their design in his shop!

We are truly blown away by the effort and generosity shown by Tim and his team. They went over and above anything we could have asked for and both the children and the staff had a fantastic day. We'd like to say another huge thank you to the team for an amazing experience and would highly recommend anyone drop into his shop to enjoy some of his delicious looking treats or even one of the winning groups creations!
Quotes from the children included;
'That was the best day ever!'
'I didn't want today to end!'
'That was such an amazing treat, we're so lucky!'