Friday 26th November
Well we have had 5 days, and the preparations are going really well! Here's a quick video update of what we've been up to this week. And some pictures from this morning when we started building our set!
Bear with us here, this pile of junk is going to be an amazing stable by the end of the day!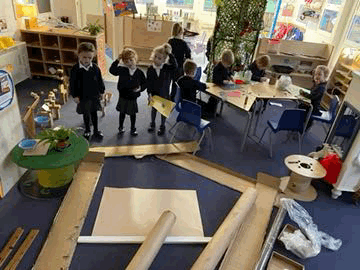 Monday 22nd November
The date for our EYFS nativity has been penned in as being on the 10th December at 2pm this year.
Preparations for a Nativity started at 7:30am this morning, when I was driving into school panicking about the fact that we hadn't started yet!
But in true, awesome fashion, the children have entered into preparations with bucket loads of enthusiasm and after just one day we have already made loads of progress. The next few weeks will be Christmas, Christmas, Christmas. It's always a very exciting and magical time of year for the children, and an incredibly busy time of year for teachers! So this year I will be attempting to keep up a live blog of what goes on in our classroom throughout the festive build up so that you can experience the joy, madness and mayhem of Christmas in the Early Years Classroom.
To kick it all off, I've put together a video of day one:
Thank you!
Alistair Ledger
Receptioin Class Teacher